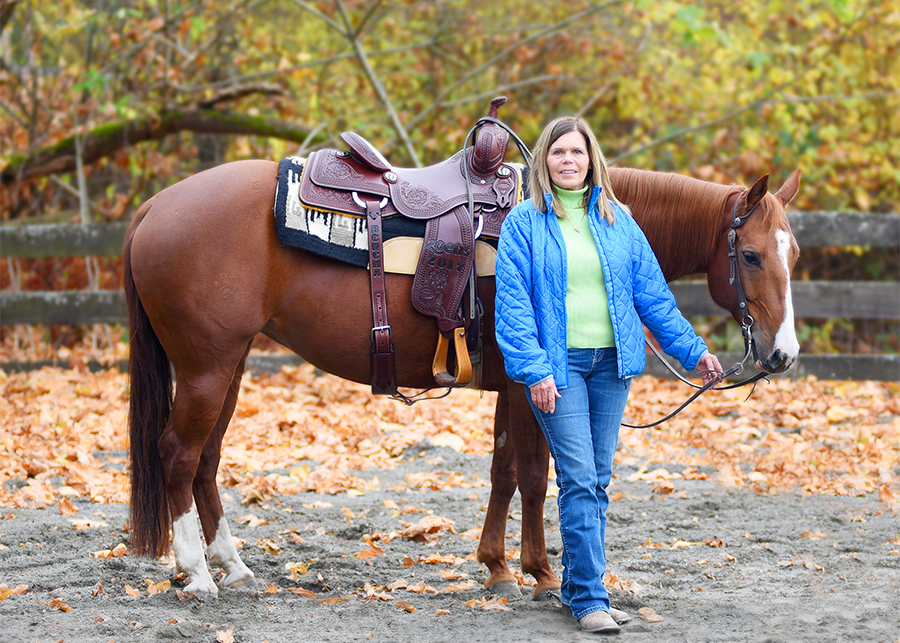 Once again the BCRCHA was extremely fortunate to be able to award one lucky club member a beautiful saddle just for coming out and showing. Sally Rees was winner of the 20107 Zoetis saddle draw. It could be you next year.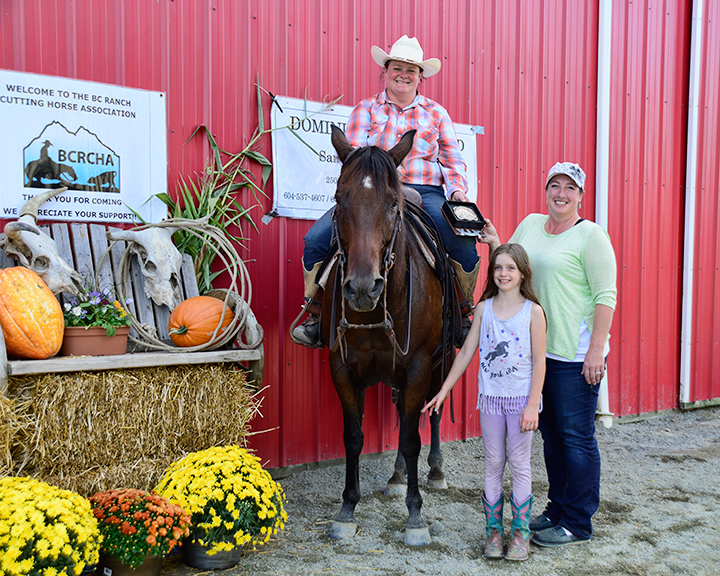 September 23, 2017 Never Won A Buckle class winner was Robyn Dubord riding Bear. Class sponsored by Traveland RV Supercentre.
June 4, 2017 NEVER WON A BUCKLE Class was won by Sandie Peter riding Reyguns Merada. Class sponsored by Traveland RV.
The 2016 winner of the highly coveted Zoetis saddle draw was Cliff White. Unfortunately Cliff was unable to attend the banquet this year. Accepting on his behalf was David Paton (l) with Gord Colliar (r) respresenting Zoetis. Congratulations Cliff and many thanks to Zoetis for continuing to make this amazing award possible.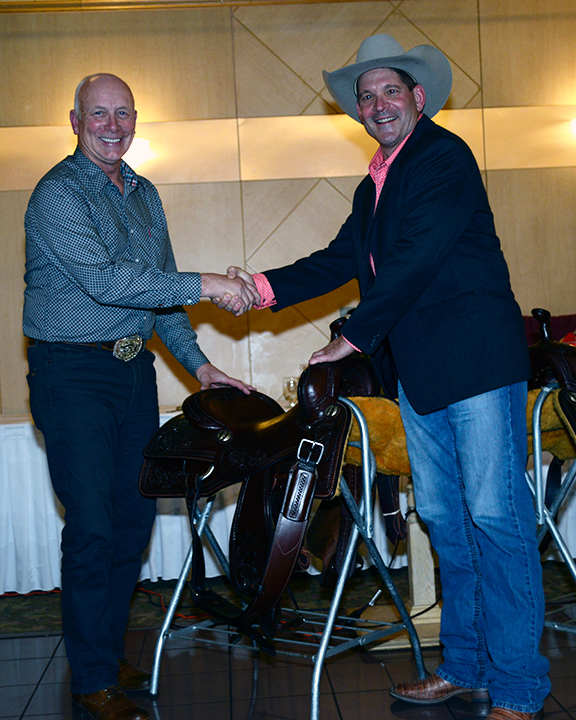 With the generosity of Merck Pharmaceuticals the BCRCHA was able to subsidize the entire 2016 season for the Youth division. Pictured here (left to right) Jediah Krahn, Kenzia Krahn, Layla Penner, Dr David Paton and Ryley-Ray Wilson.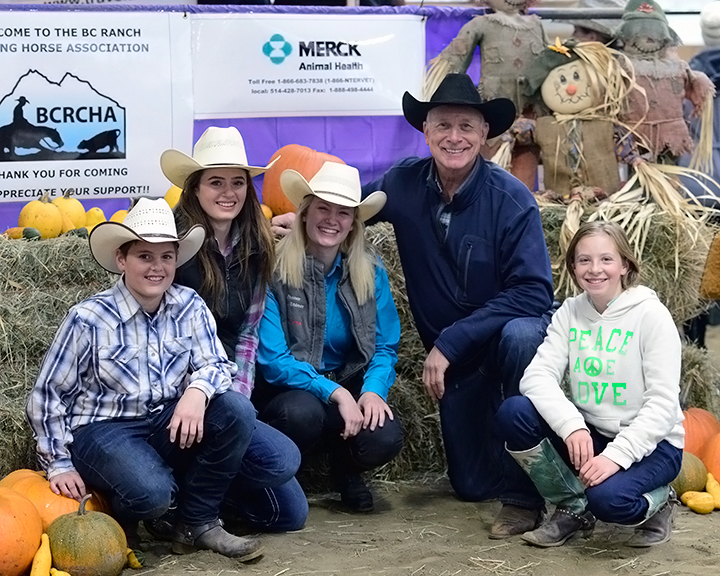 Tragedy hits close to home. On Monday, October 10, 2016 BCRCHA member, Barb McNally, was involved in a fatal car accident near her home in Mission B.C. Barb's infectious perssonality endeared her to all who met her. She will be missed.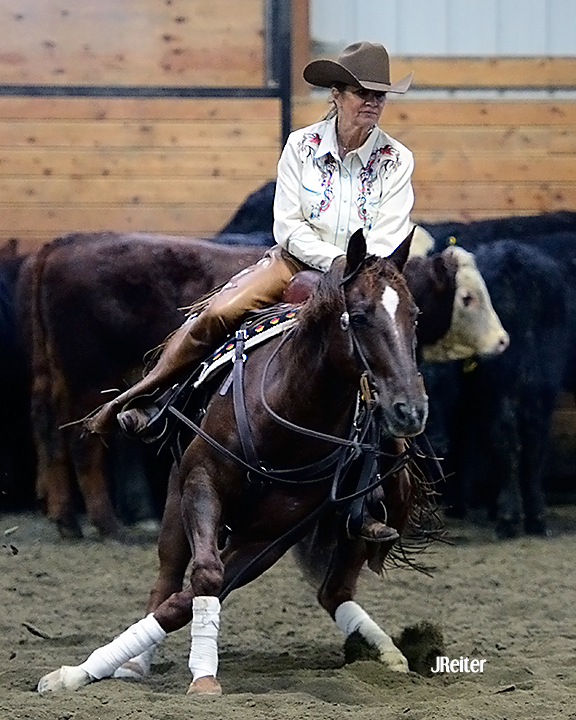 September 10, 2016, Jessie Maxon riding River Jazz wins the fourth Never Won A Buckle class. Buckle presented by Penelope Broad, buckle series sponsored by Traveland RV. Also on hand for the presentation was Don Burrell (left) of Magellan Law Group, class sponsors of the show held at Anderlini Farm.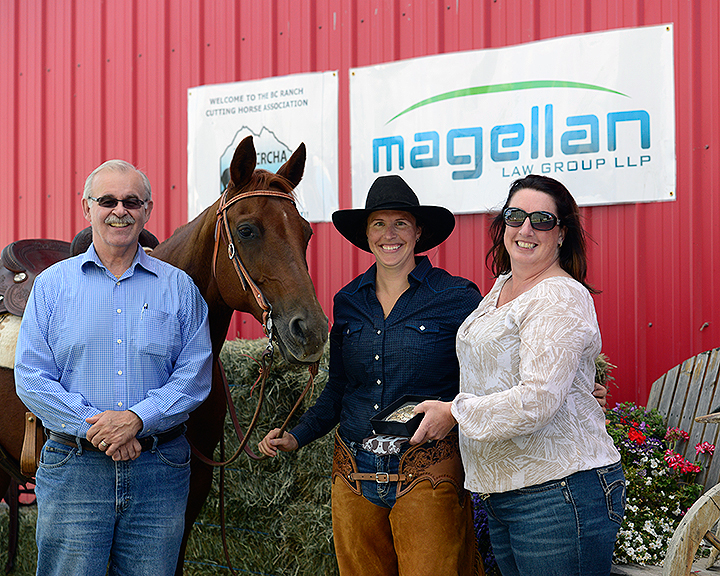 July 19, 2016, Tyler Rempel, riding All ABout Jason won the third Never Won A Buckle class. Buckle presented by Lois Clough, buckle series sponsored by Traveland RV.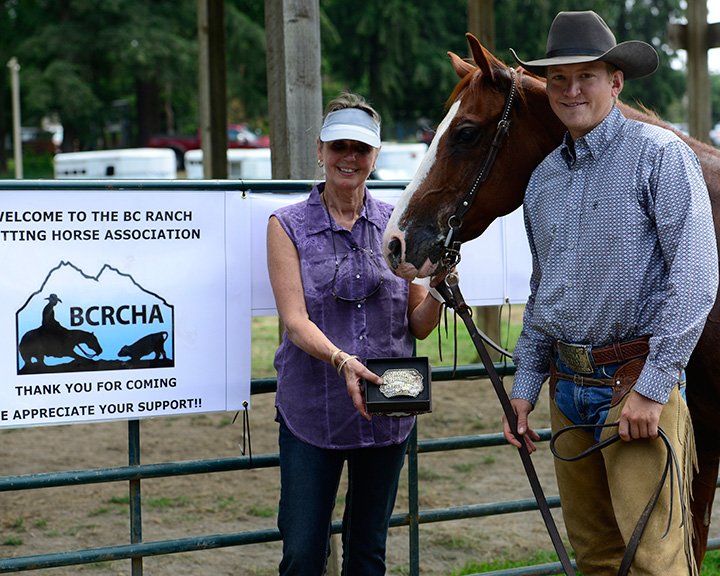 June 12, 2016 Layla Penner won the second Never Won A Buclke class. Buckle presented by Matt Paton, buckle series sponsored by Traveland RV.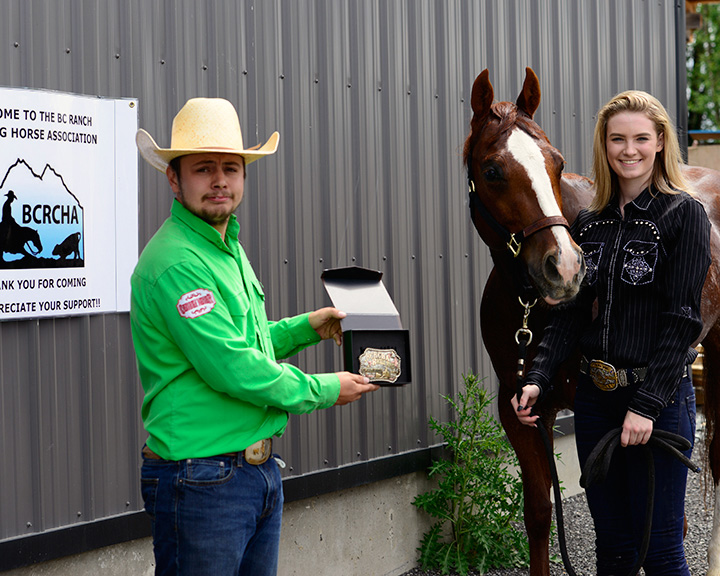 May 29, 2016, Lois Clough riding The Cattin Meow wins the first Never Won A Buckle class for the 2016 season. Buckle presented by Mandy Fill, sponsored by Traveland RV.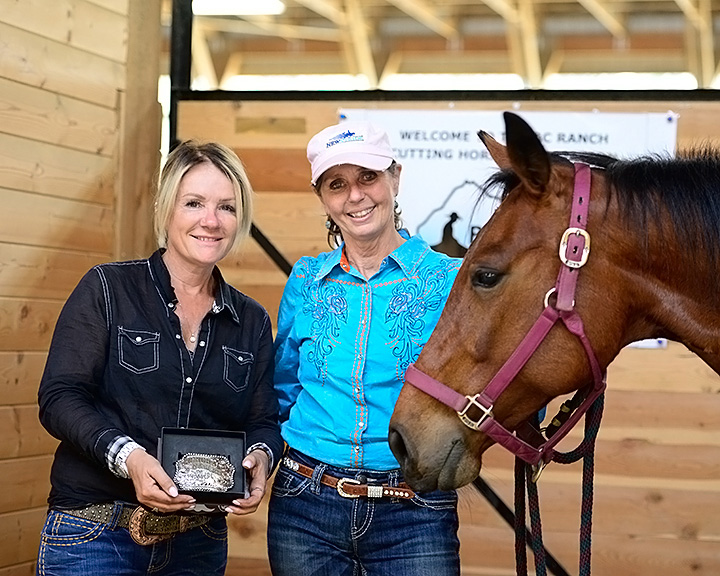 It may be old news but worth a reminder - if you haul a living quarters trailer make sure you are legal. Check out the ICBC rules for towing a trailer over 4,00 kg. (more)
"Climb every mountain, Ford every stream, Follow every rainbow, 'Till you find your dream." For BCRCHA member Neil Higgins that dream came true in November 2015 when he zipped up his chaps, climbed aboard "Ernie" and went to play in the world's most prestigious sand box, the Will Rogers Arena in Fort Worth, Texas. (more)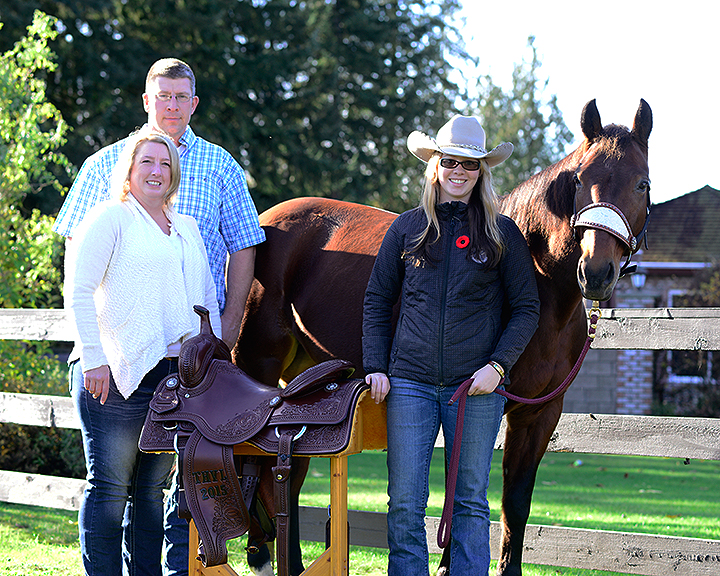 Congratulations go to Larissa Price on a well fought battle and rising to the top of the standings for hi-point rider for the 2015 season and earning the Thompson Horse Van Lines trophy saddle. On hand for the presentation were (l-r) Penelope Spooner, Todd Spooner, Larissa Price and Player's Little Dixie.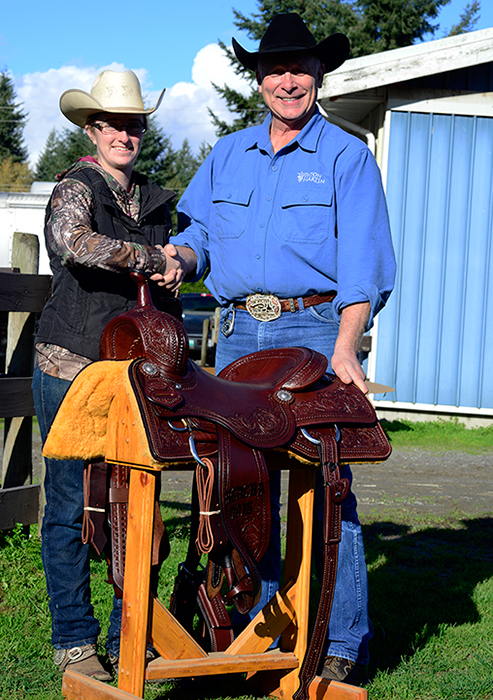 And the winner of the 2015 saddle draw, sponsored by Zoetis, is Kathrine Kowalik. Saddle presented by Dr David Paton. Enjoy the ride Kat.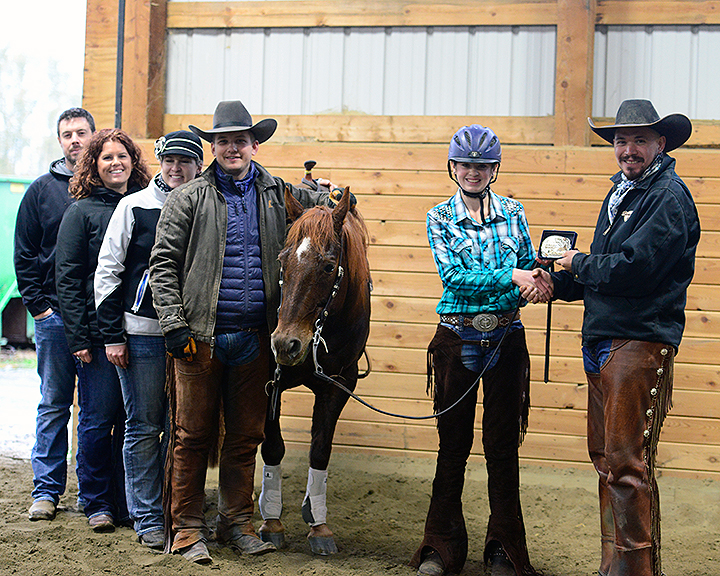 Congratulations to Kenzia Krahn, riding SDP Vallhalla Cat on winning the Never Won A Buckle class, Nov 1, 2015. Buckle presented by Brent Stewart.
~~~~~~~~~~~~~~~~~~~~~~~~~~~~~~~~~~~~~~~~~~~~~~~~~~~~~~~~~~~~~~~~~~~~~~~~~~~~~~~~
BCRCHA Show September 13, 2015 at Cornerstone, class winners (photos courtesy of Bob Magrath) view
~~~~~~~~~~~~~~~~~~~~~~~~~~~~~~~~~~~~~~~~~~~~~~~~~~~~~~~~~~~~~~~~~~~~~~~~~~~~~~~~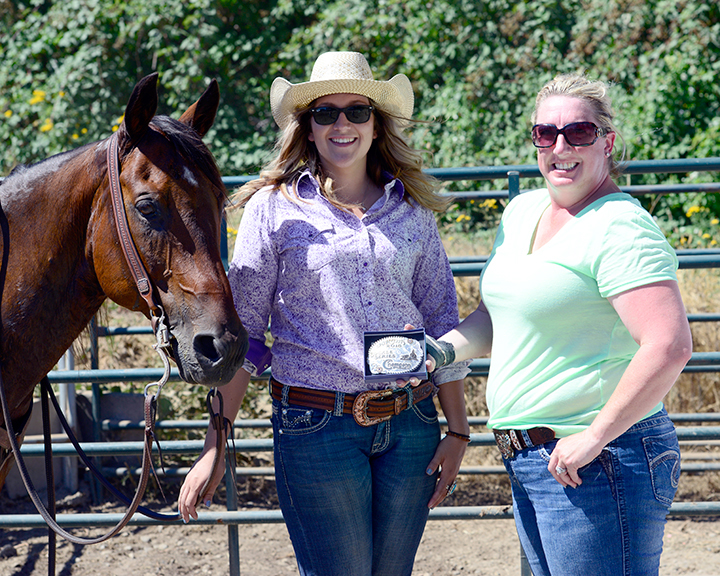 Congratulations to Chloe Littlejohn riding PR Scription Man, winner of the Never Won A Buckle 2. Buckle was presented by BCRCHA director Penelope Broad.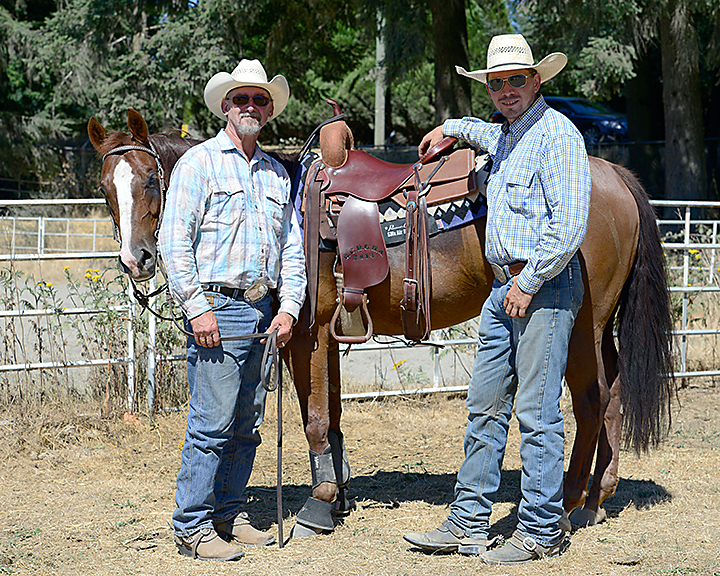 Ken Thiessen was the luck winner of the 2014 Zoetis Saddle Draw. Chics Little Colonel models the Roohide Brumby. BCRCHA Vice President Brent Stewart (R) was on hand for the presentation.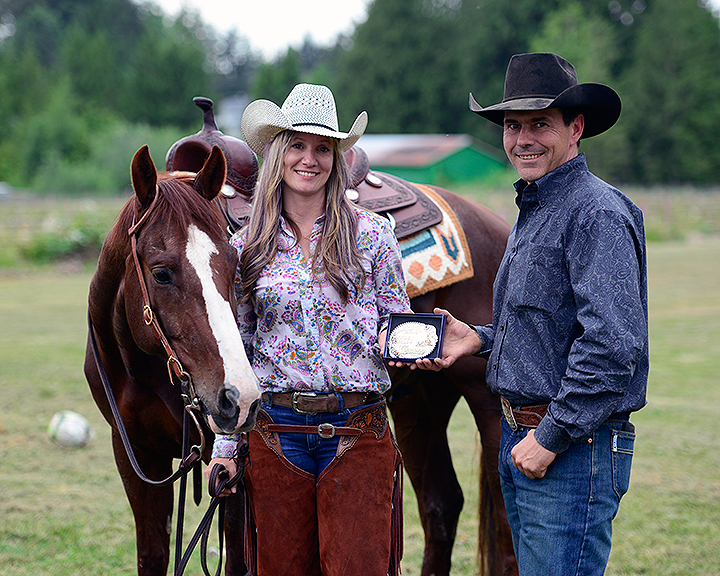 Congratulations to Colleen Penner riding Wricochet winner of the first Never Won A Buckle class of 2015. Buckle presented by BCRCHA president, Dan Novotny.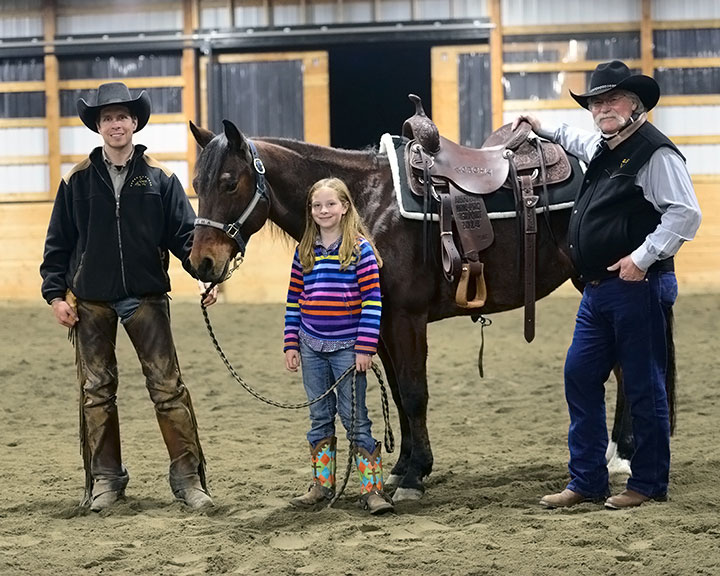 The 2014 Lafarge Saddle went to the aggragate high point non-pro rider this year. Congratulations to Shaun Howes riding Scat Daddy, shown here with Cayley and Ryley-Ray Wilson. Rick Fleming was on hand to make the presentation.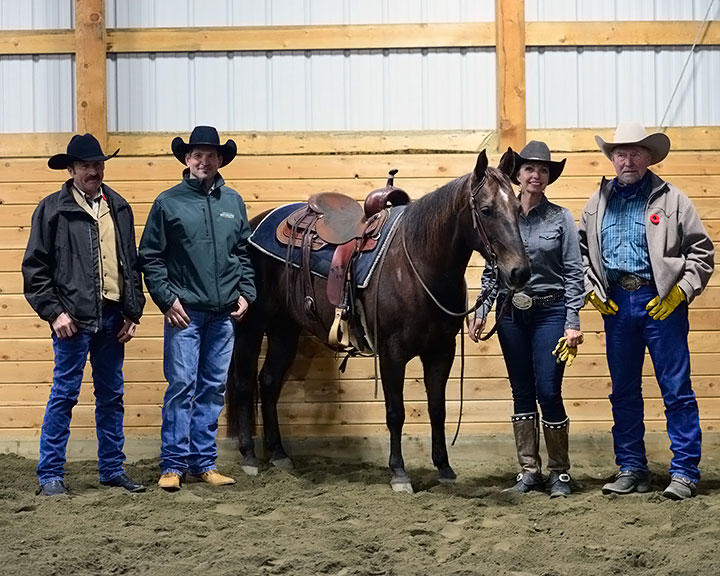 The BCRCHA is extremely fortunate to have a sponsor like Zoetis. Larry Frischke and Gord Collier were on hand at the Cornerstone show, shown here with 2013 saddle draw winner Jan Behm Ritter (her horse TR Smart Rey is modelling the saddle) and 2011 winner Randy Brandt. Who will be the next winner?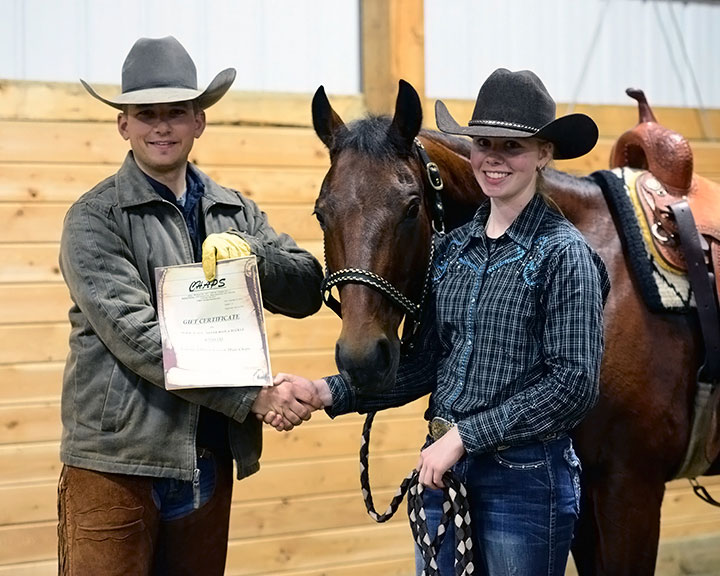 Larissa Price riding Players Little Dixie win the 2014 Never Won A Buckle final at Cornerstone Farm. Class was sponsored by Chaps By Lynn and Surrey Central City.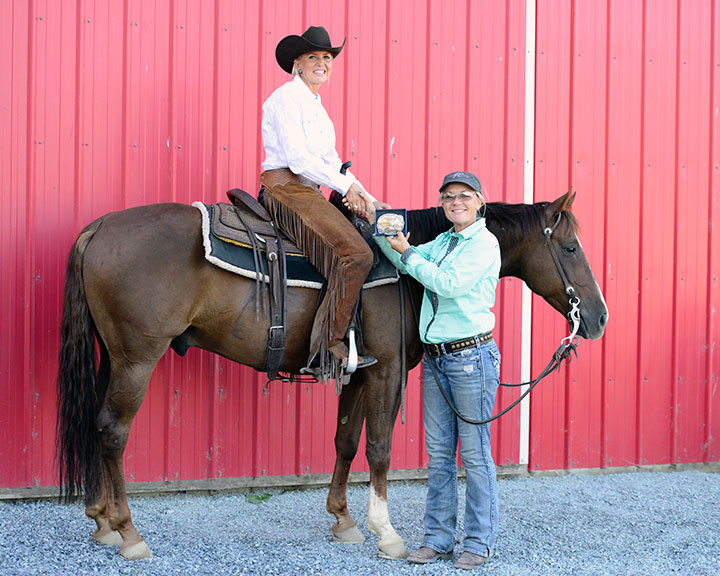 Wendy Lund riding Smooth As Tamulena win the Never Won A Buckle class at Anderlini's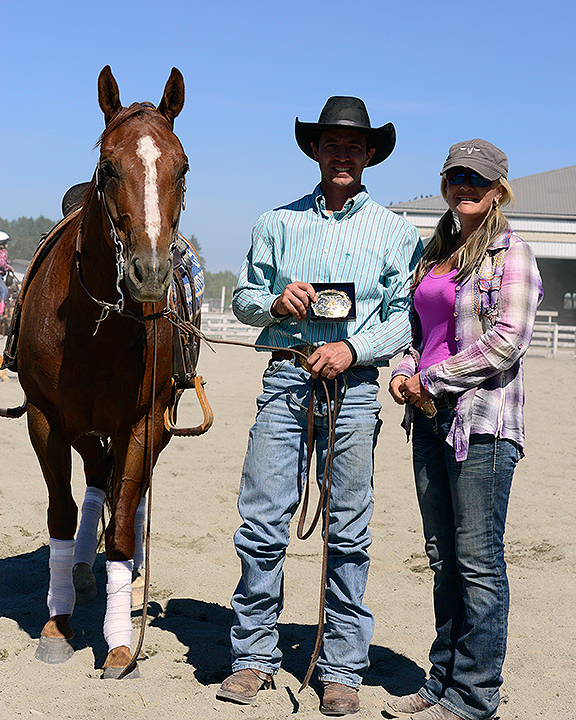 Clint Hawkings riding No More Monkeys wins the NEVER WON A BUCKLE class at Shirrocco.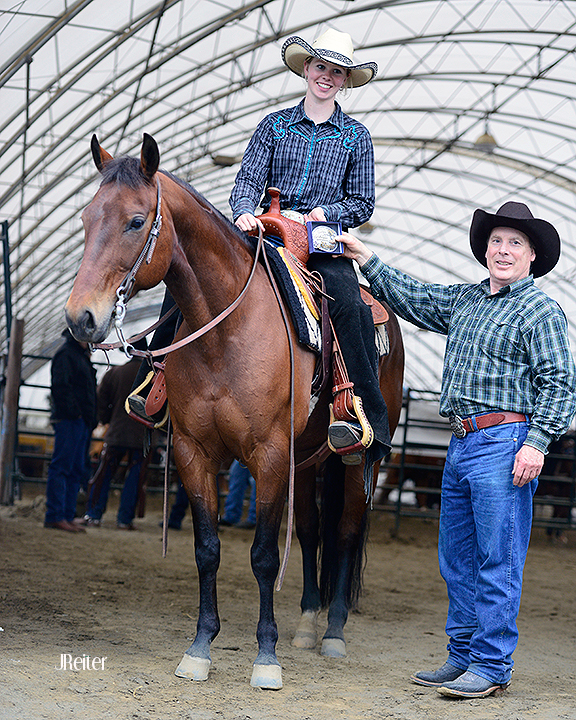 Larissa Price riding Players Little Dixie won the second installment of the 2014 NEVER WON A BUCKLE series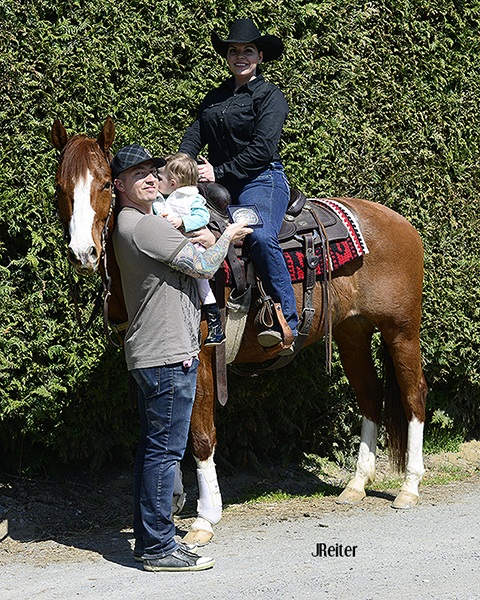 First NEVER WON A BUCKLE class winner for 2014 is Amanda Vanderkerkhove riding Freckles Perana. Buckle sponsored by Marc Antoine Roy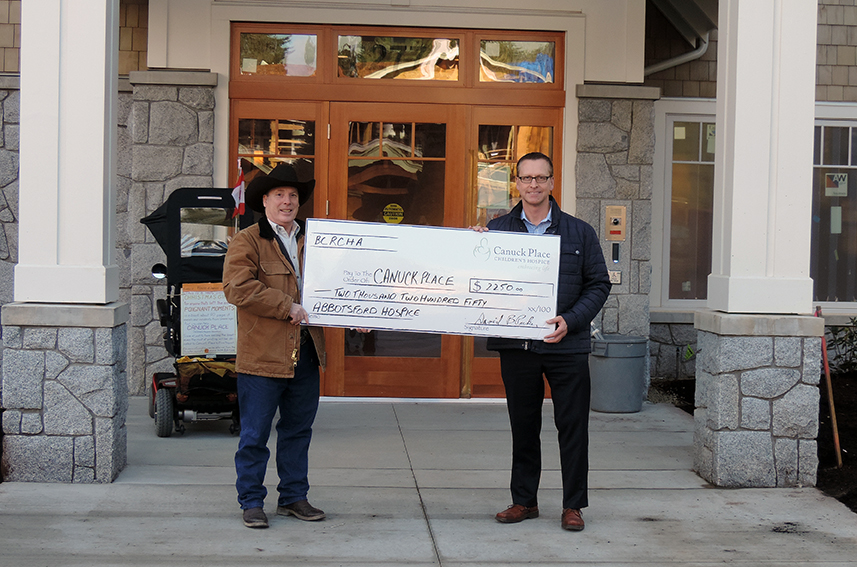 BCRCHA president, David Parker presents Jeff Thiessen of Canuck Place with a cheque in the amount of $2,250.00. The money was raised as a result of a Bridleless Calcutta held at the year-end show at Thunderbird Show Park. The winning bidder was Mandy Fill, who purchased Travis Rempel riding Rio Merada. Mandy generously & graciously donated her winnings back to the club, which enabled us to make such a wonderful donation to a truely worthy cause.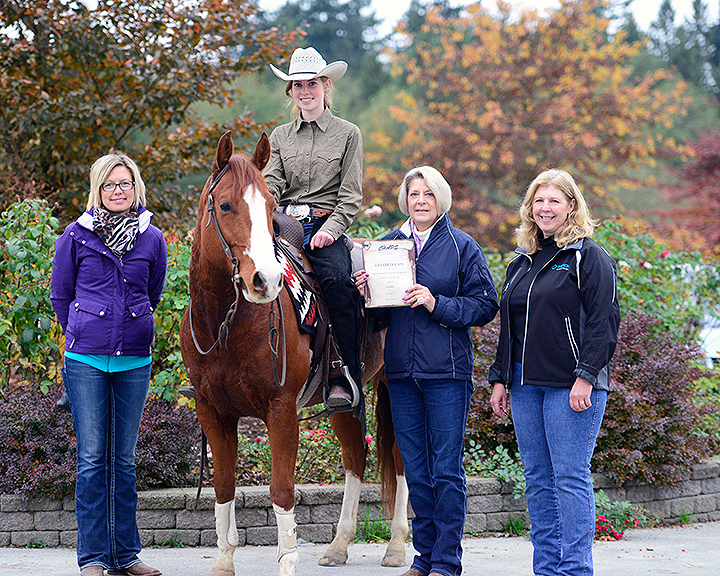 Saturday, October 26 at Thunderbird Show Park the BCRCHA ran its first Never Won A Buckle Final. During this past season the club offered the Never Won A Buckle Class at three shows (Stradling's Arena, Stetson Bowl and Fast Times Farm), each winner received a beautiful custom made silver belt buckle and the chance to ride in the finals for a pair of custom made chaps, donated by Chaps By Lynn and Merck. Vying for the chaps were Jan Behm riding TR Smart Rey, Madelyn Gosselin riding Freckles Perana and Leah Slattery riding Sneakin Out To Play.
Youth rider, Madelyn Gosselin emerged victorious and will be sporting a new pair of chaps, along with her belt buckle the next time she steps into the cutting pen. Congratulations Madelyn.
It was a nail biter, came right down to the last class of the season to find out who would be the proud and deserving winner of the Limited Rider Aggregate saddle. Coming into this show there were 5 riders well within striking distance (Bill Rempel, Jim Mann, Jan Behm, Karen Popil and Doug Vandekerkhove) and when the buzzer sounded after the last rider it was Bill Rempel and All About Jason who rose to the top. Congratulations Bill and may you continue to ride in the center of the pen.
The beautiful Jeff Smith saddle was donated by LaFarge Canada, to whom we are enormously grateful.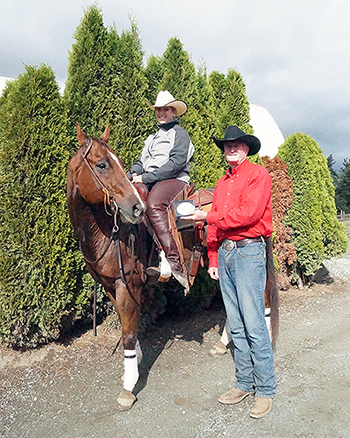 September 22, 2013 Jim Mann presents Leah Slattery, winner of the third and final Never Won A Buckle class, with her covetted buckle. That means that Leah, Madelyn Gosselin and Jan Behm will all ride off at the Thunderbird Show in October for the change of winning a custom made pair of chaps, sponsored by Lynn Saunders (Chaps 4 You) and Merck Pharmacuticals.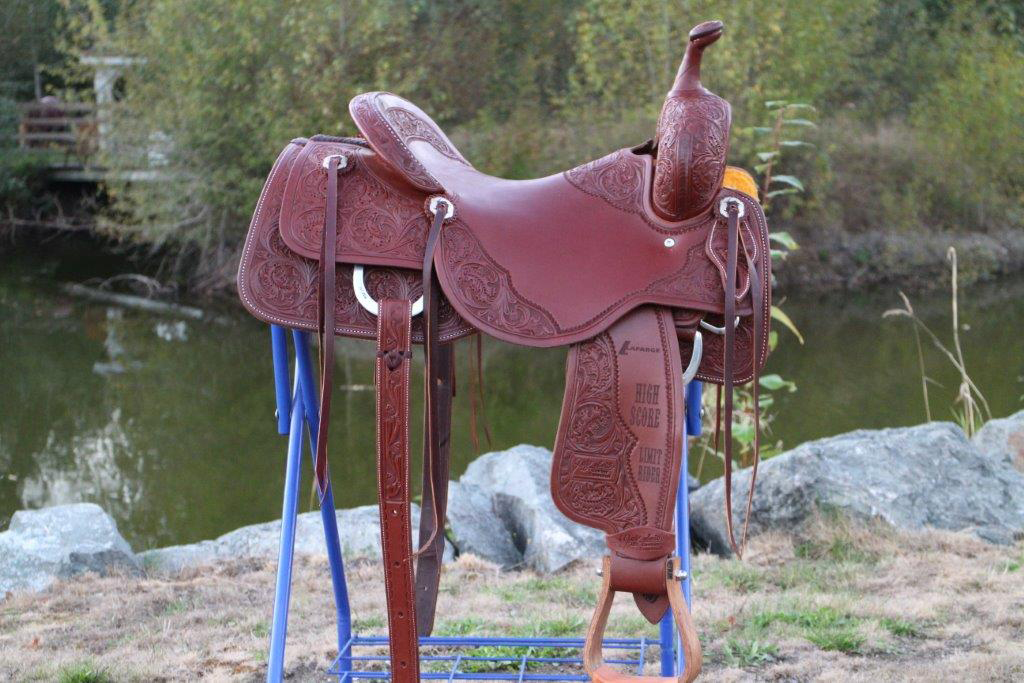 This gorgeous saddle will be presented at the Thunderbird Fall Show in October to the high-score limited rider for the 2013 season. Not a bad little award for working hard, showing up and supporting a great little club. Huge thanks goes out to LaFarge for stepping up and making it possible.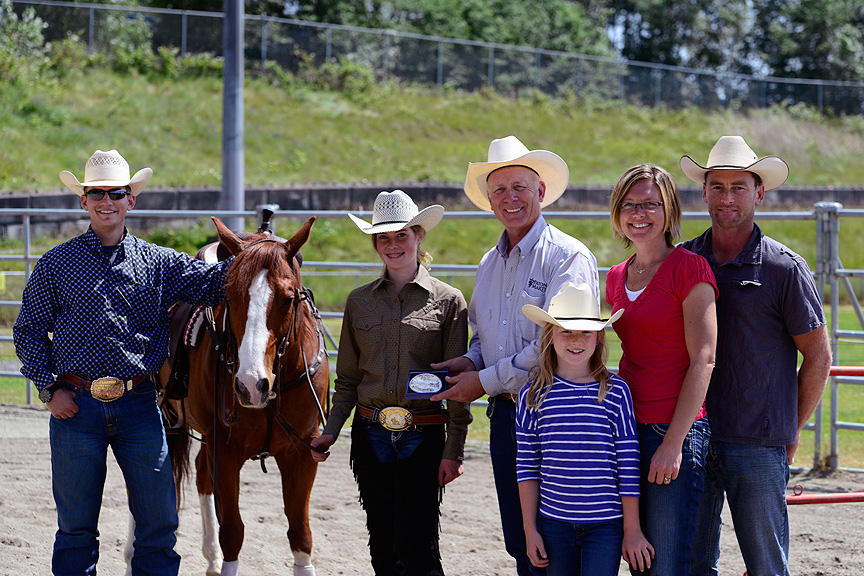 June 16, 2013 - Winner of the second NEVER WON A BUCKLE class is Madelyn Gosselin, buckle presented by BCRCHA director David Paton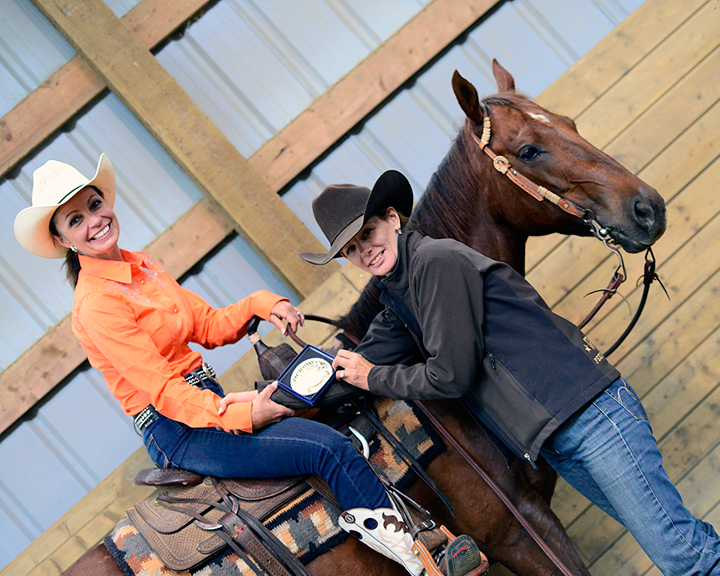 May 26, 2013 - Winner of the first NEVER WON A BUCKLE class is Jan Behm riding TR Smart Rey. Buckle presented by Shari Gallagher on behalf of Danny Gallagher.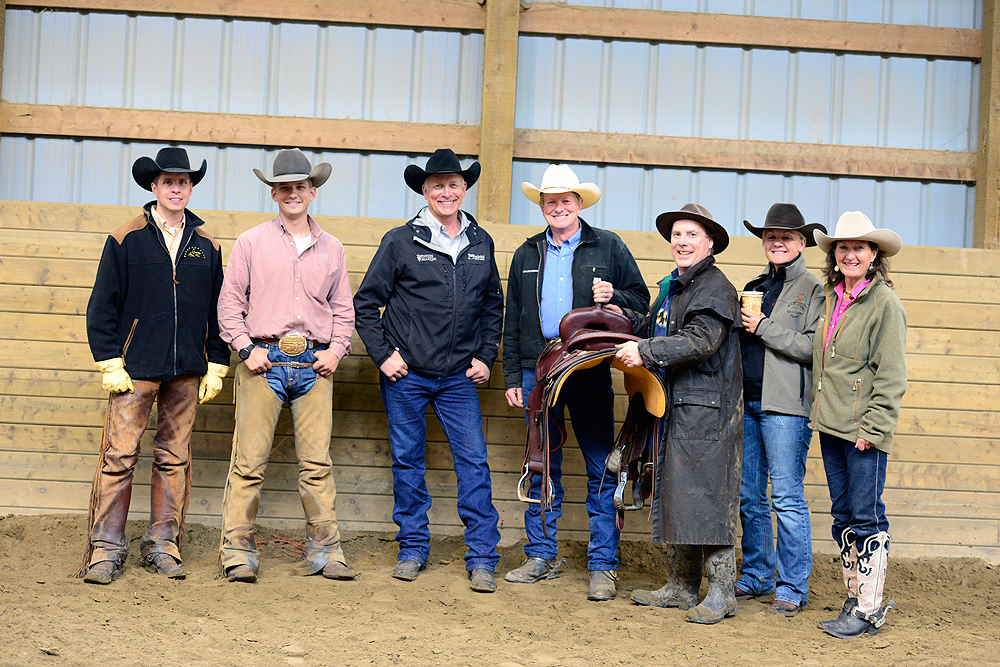 May 26, 2013 - BCRCHA directors present 2012 saddle draw winner Mike Stradling with his brand new RooHide saddle.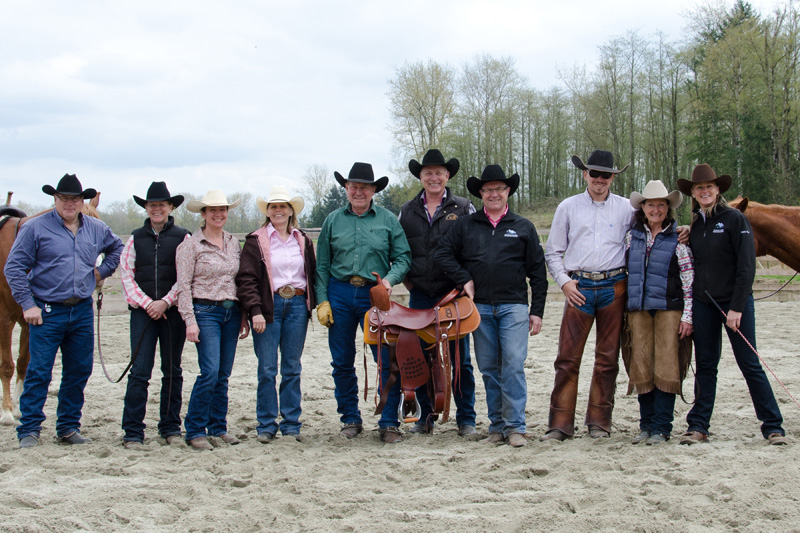 The BCRCHA board of directors presents Randy Brandt with his brand new Brumby saddle courtesy of Roohide.
SPRECHEN ZE DUETSCHE?
It is a safe bet this is not a question posed everyday .... (More)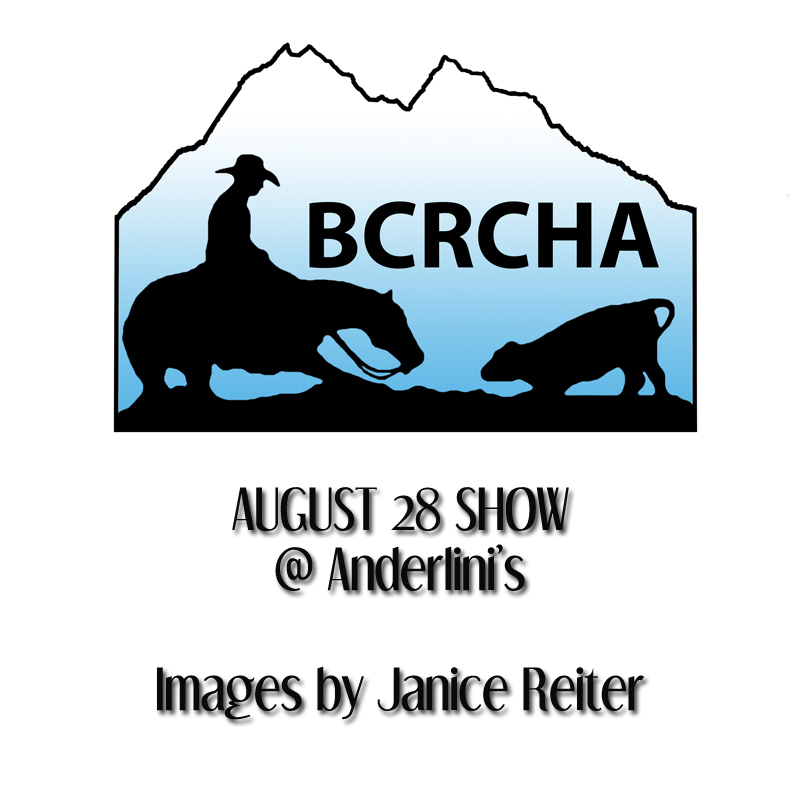 Look Ma, No Hands!
I know you've all heard it. People say it all the time, "Oh cutting, that's where the rider just sits there and does nothing." (More)
Rite of Spring
At the beginning of February Punxsutawney Phil proclaimed we'd have an early spring. (More)